Many times, there are things that happen that can't be explained or don't make sense, or are too good to be true.  I am talking about some angels that are veterans that are now united in motorcycle clubs. They are the roughest and toughest of us all.  They stood tall, volunteered to protect our country, and now they volunteer to help causes in America.  They ride for freedom, they ride for fun, and they ride to help others have a better life.  They have Poker Runs, Dice Runs, and other fundraising – all to benefit worthy causes.
Ronald McDonald House, Honor Flights, Child Abuse, Literacy, Veterans in Need – they have helped them all.
Veterans' Outreach has been blessed by several fundraising rides hosted by The American Legion, Abate, and The Combat Veterans.
This is the second year that Combat Veterans Association Chapter 12-6 has raised funds for Veterans' Outreach's mission.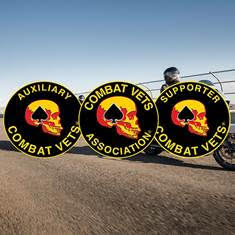 COMBAT VETERANS MOTORCYCLE ASSOCIATION® CHAPTER 12-6
Vets Helping Vets 
(from Combat Veterans Association Chapter 12-6 website)
We are an Association of Combat Veterans from all branches of the United States Armed Forces who ride motorcycles as a hobby. As a registered 501c3 veterans' charity, our chapter's mission is to support and protect those who have defended our country and our freedoms. Our focus is to provide assistance and help to individual veterans, other veteran organizations and registered charities. We sponsor and participate in many veteran-related motorcycle (and other) charity events each year, and as a non-profit organization, donate to various veteran causes. Our Mission Statement is Veterans Helping Veterans. Our membership is comprised of: Full Members (those with verified combat service), Supporter Members (those who have non-combat military service and have a strong dedication to helping veterans), and Auxiliary Member (Spouses of both Full and Supporter Members).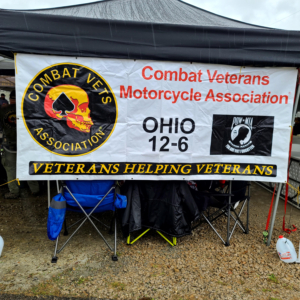 This year, this club raised funds for Disabled Veterans Outdoors, Honor Flight (Columbus), and Veterans' Outreach. Last year, they contacted us out of the blue and said they wanted to raise funds for the mission.  The next time we heard from them was when they announced they would be riding their bikes from Cambridge to Youngstown to present the check at our 6th Annual Golf Scramble.  We were blown away by their support, they presented a check of $8,000!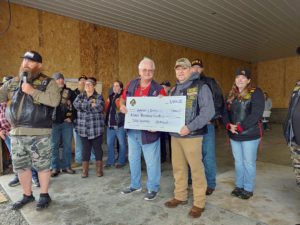 We didn't expect that…This year we were asked to attend the Honor Flight Event and we encountered a well-organized fundraiser with a great deal of leather-clad men and women, having a great time helping vets.  The event wrapped up their season of fundraising through riding.  It was held at a private home that had a fantastic space developed for just such an event – they call it Da'Shack.  Lots of space, lots of games, and lots of incredibly generous people.  Despite the rain that would not stop from the remains of Hurricane Ian, the event was a great success.  
Between all three of the charities selected, they amassed over $30,000!  Just amazing results from silent auctions, games, raffles, and so forth.
Veterans' Outreach was presented with a check of $9,000, which was more than the previous year. Commander "Hell-Hound" Vickers said you could also expect more next year!
The passion that these men and women have is spectacular.  These folks are from rural parts of Ohio, these American Heroes, and they keep on setting up new goalposts. Veterans' Outreach is very honored and grateful that they dedicate so much of their time to move the mission along its path, to respectfully serve and honor all veterans.
https://veteransoutreach.org/wp-content/uploads/2022/01/Veterans-Outreach-Horizontal-3.png
0
0
Sara Rogers
https://veteransoutreach.org/wp-content/uploads/2022/01/Veterans-Outreach-Horizontal-3.png
Sara Rogers
2022-10-26 11:23:09
2022-10-26 11:31:02
Angels Come in Many Forms!